Olympus DAO Posts Rally, Aiming for New All-Time Highs 
Key Takeaways
Olympus DAO's OHM token is quickly approaching its all-time high.
The project's clever tokenomics are drawing in users and providing value.
A strong community and meme culture surrounding the project are also helping the DAO to grow.
Share this article
Olympus DAO has bounced off its summer lows and is rapidly approaching a new all-time high. The project's clever tokenomics, strong community, and meme culture are all driving adoption. 
Olympus DAO Climbs Higher 
While other crypto assets swing with market volatility, one project has consistently climbed higher in the background. 
Olympus DAO has risen more than 160% over the past month as interest in the project reaches a fever pitch. The OHM token is currently trading at $1,224 and is roughly 13.6% short of its all-time high of $1,415 achieved earlier this year in April. During the market crash in May, the project was hit hard, losing almost 90% of its value and dropping to an all-time low of $162. It has since rebounded with strength. 
Olympus DAO is the DeFi protocol that issues the fully collateralized, free-floating OHM token. The project's ultimate goal is to create a stable crypto asset. However, when looking at the historical price swings of the OHM token, this may seem counterintuitive.
The current previous volatility is intentional in the early stages of the project. The DAO's current objective is to first grow the supply of OHM tokens, with stabilization coming later. In order to grow the token supply, Olympus DAO has constructed a clever tokenomic system to draw in new users and provide value. 
The DAO works by allowing users to bond other crypto assets such as MakerDAO's Dai stablecoin to the protocol, receiving newly minted and discounted OHM tokens in return. This brings in assets to the DAO, which are then deployed to generate yield. 
OHM token holders can stake their tokens to receive the yields generated by the DAO, which incentivizes them not to sell their OHM. This, in turn, creates more belief in the future of the project as yields keep increasing. When the OHM token yield increases, the market values the tokens higher, increasing the price. This encourages more people to bond their assets in exchange for discounted OHM, thus completing the cycle.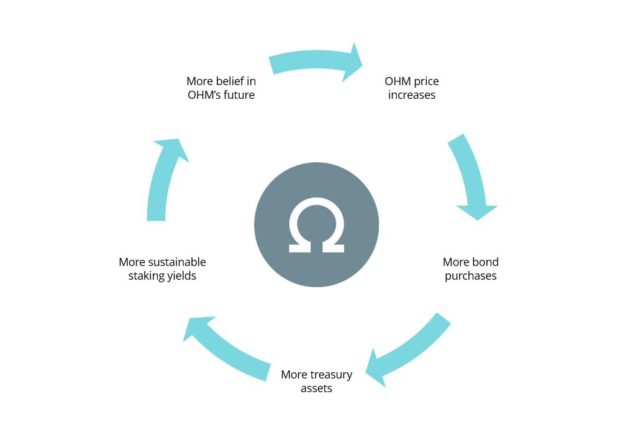 This tokenomic "flywheel" will only work if enough people are using the protocol to set it in motion. Olympus DAO has drawn users to the project through its strong community and meme culture surrounding the project. 
On social media, many proponents of Olympus DAO (who refer to themselves as "Ohmies") sport the (3, 3) suffix in their names to indicate allegiance to the project. The (3, 3) tag references the game theory of how the project works. If a user stakes OHM tokens, it is conceptualized as a +3 positive for the DAO as it causes scarcity, increasing the price of OHM. If all DAO participants choose to stake their OHM, it results in the highest possible net positive for all token holders, represented by (3, 3).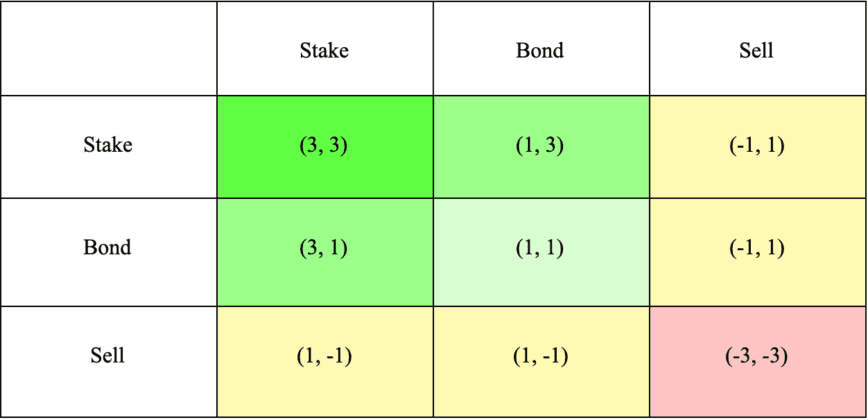 The game theory meme format has become so prominent that it has even extended to other projects. For example, users of another DeFi protocol, Tokemak, have adopted a similar meme using radioactive signs instead of numbers. 
Additionally, Olympus DAO has gone on to inspire several similar projects. The recently launched TempleDAO takes inspiration from Olympus' meme culture. At the same time, Wonderland, a direct fork on Avalanche, was created by DeFi 2.0 pioneer Daniele Sestagalli, and has received the blessing of the Olympus DAO team.
Currently, the OHM token price looks strong, with more trading volume than ever before. While the tokenomics suggest that the price will continue to increase, critics have likened the protocol to a Ponzi scheme. Whether Olympus DAO will be able to sustain its current rate of growth remains to be seen. 
Disclaimer: At the time of writing this feature, the author owned BTC, ETH, and several other cryptocurrencies.
Share this article
Investment Banking Giant Wants to Take Out MakerDAO Loans
Société Générale, one of Europe's biggest investment banks, has propositioned the MakerDAO community to refinance its securities. The bank wants to use covered bonds as collateral to take out Dai…
Ethereum On-Chain Metrics Set the Stage for a Rally
Ethereum could soon breach $4,000 and march toward new all-time highs as on-chain metrics turn bullish.    Ethereum Primed for Volatility Ethereum has been relatively stagnant while Bitcoin appears to…
Beginner's Guide: Perpetual Trading on dYdX
Crypto Briefing explains how to use dYdX, one of the fastest-growing platforms for decentralized perpetuals trading on the Ethereum blockchain. An Introduction to Perpetual Trading on dYdX Since launching in…
Efficient Market Hypothesis: Does Crypto Follow?
The Efficient Market Hypothesis (EMH) is a concept in financial economics which states that security prices reflect all the available information about a financial instrument. EMH is one of the…